HJW - English
The Herfst Jongleerweekend (HJW) is going to be a wild one this year!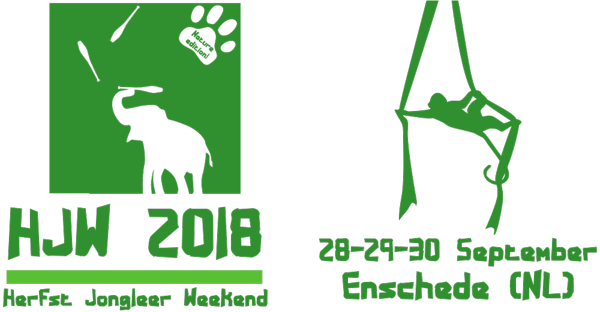 ---
When is the HJW?
Open: friday 28th of september 20:00
Closed: sunday 30th of september 16:00
---
What is the HJW?
-Juggling
Practise together with other jugglers
-Workshops
Learn from the masters!
-Club volley
What would you get if you combined juggling and volleyball?
-Fight night
What would you get if you combined juggling and fighting?
-Acrobatics
For the first time there is going to be a acro space. How acrobatic are you?
-Tissu
Tie yourself at 4 meters high!
-Slacklines
Can you get to the other side?
-Live music
The band is going to make a big party!
-Gezelligheid!
(Look that word up if you don't know what it means)
---
What does the HJW cost?
€35,-
That's including breakfast, dinner, sleeping and party!
Pricing for day passes and accomodations are as follows:
Day Pass
Friday
Day Pass
Saturday
Day Pass
Sunday
Overnight stay
with breakfast
Price
€10
€15
€10
€5
---
Where is the HJW?
The venue is in the sportscentre of the university of Twente in Enschede.
De Hems 20
7522 NL
Enschede
---
How do I keep up-to-date on the event?
Follow us on
facebook!
Come back to this page in August. Around that time there will be more practical information about the event, and you will be able to sign up!